Class Columbus - Visit to Manchester Airport Visitors Centre
Class Columbus - Visit to Manchester Airport Visitors Centre
16 July 2018 (by admin)
Where shall we go today?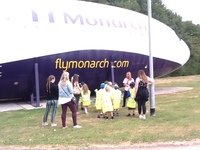 On Thursday 12th July, Class Columbus embarked on a visit to the Manchester Airport Visitors Centre. They experienced what it is like to sit in an aeroplane, and even had time in the flight deck! They watched the big aeroplanes landing and taking off and found out about the many jobs people have to help the airport run smoothly and safely.
A gallery has been added to the App/Website please take a look.