Class Hepburn - The Great Fire of London
Class Hepburn - The Great Fire of London
18 October 2018 (by admin)
Who came to visit?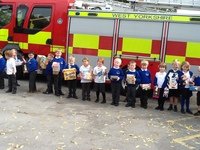 Class Hepburn were lucky enough to have a visit from Skelmanthorpe Fire Service on Wednesday 17th October.
The children learned lots about how to keep themselves safe, especially around Bonfire Night. They were also able to compare differences between the fire service today and in 1666. In preparation for the visit, the children made houses using junk materials. With the close supervision of the firefighters, we set these on fire on the playground to re-enact the Great Fire!
The children had a tour of the fire engine and the equipment used by the firefighters. They also each had a turn at spraying the fire engine hose...which they made a great effort to aim at teachers' cars!
Please take a look at the gallery for more photos!