Careers Week - February 2020
Careers Week - February 2020
11 February 2020 (by admin)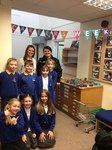 Careers week is well underway.....
Class Salt were visited by a Team GB doctor, Class Bronte were visited by Donaldson's Vets who brought Yogi the dog, a corn snake and a bearded dragon, as well as a film crew filming The Yorkshire Vet The Next Generation.
Classes Moore, Hughes and Salt have been visited by a criminologist and a police officer.
We have lot more exciting visits planned throughout the week. Please see the gallery section for more photos.