Careers Week continued - February 2020
Careers Week continued - February 2020
13 February 2020 (by admin)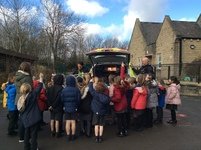 We've had more visitors this week.
Dr Jane, a GP, visited Class Cook - the children were hands on with the stethoscope.
Sgt Schofield & PC Haslam from WY Police visited Class Priestley and Class Wilberforce. The children also got to look at a police car and some of the grown-ups in school tried on the handcuffs!
Bob Taylor, visited Class Bronte to talk about a career as a paramedic. The children had a go at bandaging each other.
Mrs Kenefick visited Class Moore to talk to the children about being an optician.
Shepley Spring visitied Class Wilberforce to talk about product production and recycling.
Thank you to all our visitors for giving up your time - the children have really enjoyed your visits.